Allhallows Museum in Honiton  High Street has an astonishing wealth of local heritage information and artefacts packed into the oldest building in Honiton.  Founded seventy six years ago this November, the Museum is still run entirely by volunteers who work to preserve the heritage of the people of Honiton and the  surrounding district.
The focus for the Museum is all things Honiton. We hold the largest collection  of Honiton lace in the world, tracing the history of lacemaking in Honiton from the 17th century to the present day. You can see the first written evidence of lace production in Honiton; a brass plaque from the tomb of James Rodge, dated 1617. There are also examples of black lace worn by the Victorians as a symbol of mourning and a scarlet nightdress which was owned by Wallis Simpson, who King Edward abdicated the throne for in 1936.
The museum also displays fossils and historic artefacts from archaeological digs in the area. The most famous being the Honiton Hippo. The fossilised remains of seventeen hippos were found during the construction of the bypass  in 1965. The hippos are thought to have lived in the area during a warm interlude in the Ice Age, when  England had a climate similar to that in Africa today.
In the Murch Gallery numerous examples of Honiton Pottery can be seen. Another display showcases historic objects unearthed by the East Devon Metal Detecting Club, including Bronze Age, Roman, and medieval finds. Other displays include a furnished Victorian dolls house, local trade tokens and coins, war memorabilia, Hot Penny Day, and children's toys.  There is a display on Allhallows School, featuring  school mementoes and perhaps their most famous student; Sir Arthur Travers (Bomber) Harris, head of Bomber Command in WWII.
Oct 31, 2022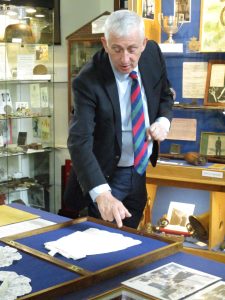 It was such a privilege to be able to welcome Sir Lindsay Hoyle, Speaker of the House of Commons to Allhallows Museum   in July. He came to view the Speaker's Honiton lace jabot and cuffs which took Pat Perryman 1500 hours to make between 1982 – 1989.  Sir Lindsay said he would be honoured to wear the jabot and cuffs at the next State Opening of Parliament.  He gave Richard Foord an extra duty as MP for Honiton – to transport the lace to Speaker's House London when required and then return it to Honiton.
Mar 27, 2015
Allhallows Museum in Honiton was officially awarded the status of Full Accreditation by Arts Council England again in 2022. The Museum Accreditation Scheme sets nationally agreed standards for all museums in the UK. Allhallows Museum's award proves that it measures up, meeting the guidelines on how it is run, how it looks after its collections and the service it provides to its visitors.
Jul 9, 2013
Thanks to the Blackdown Hills AONB
http://www.blackdownhillsaonb.org.uk/
  we now have a new interactive touch screen which brings the 1940s to life allowing our visitors to explore 'Dunkeswell War Stories'. It features memories of the American naval airbase at Dunkeswell during the Second World War, interviews with local people and American veterans. Topics include friendships between servicemen and villagers, anti-submarine missions, entertainment on the base. Copies on DVD are also on sale in the museum shop for £5
---