In the town famous for lace making, Allhallows Museum has one of the most comprehensive collections of Honiton Lace in the world. Displays in two galleries feature exquisite examples of 16th to early 20th century Honiton lace
Other displays include Honiton Pottery; a mid Victorian furnished doll's house; palaeontology; children's toys; war memorabilia, mementos of Allhallows School and the Borough of Honiton; coins and trade tokens.
There are plenty of activities to amuse the children. A choice of four free children's quiz sheets are available, with a guaranteed prize on completion, plus puzzles, books and an opportunity for everyone to try lace making.
Apr 4, 2013
Volunteers, Alan and Kathleen Hemingway present a certificate and some framed antique Honiton lace to our 400,000th  visitor who came into the museum this afternoon. Beth Saunders from Liss, Hants has an interest in textiles and took a break from her walking holiday  to  come with friends to see our collection of Honiton lace.
Oct 14, 2012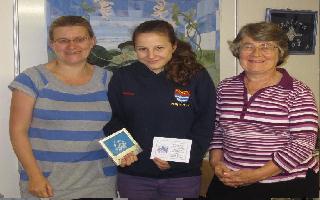 Children's lace teacher Daphne Lee and Val Foss, Chair of the Honiton Lacemakers congratulate Sam, the winner of the 2012 Honiton lace making competition. 1174 votes were cast by our visitors this year and a great many praised all of the entries and said it was far too difficult to chose their favourite.
---